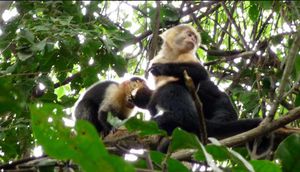 Manuel Antonio National Park lazy with babies on the tree laziness

Manuel Antonio National Park is considered one of the most beautiful parks in Costa Rica . During the visit of the adventure , you can also visit the beautiful beaches we imagine with coral reefs and clear water bordered by lush vegetation and the natural wonders of the rainforest. Its beaches are among the best in Costa Rica failed. On the way to Manuel Antonio National Park from our hotel in Jaco, you will walk along the Pacific coast with panoramic views and crossing plantations of African palm views. He also travels past small villages along the Pacific coast to the port of Quepos and the National Park .

Once in the park, you can simply relax and enjoy the beach , sunbathe or hike the trails of the park, allowing you to observe the abundant wildlife of Manuel Antonio. Several species of monkeys , iguanas , birds and maybe even three-toed sloth can be seen. Qualified bilingual guide with a mobile telescope to accompany the hotel in Jaco . If you choose to take the path of the Cathedral Point, do not forget your camera , the views of the park and the sea are simply the most spectacular Costa Rica !

Finally, the perfect sunset on a scenic drive to our hotel in Jaco .